The new frontiers of quality management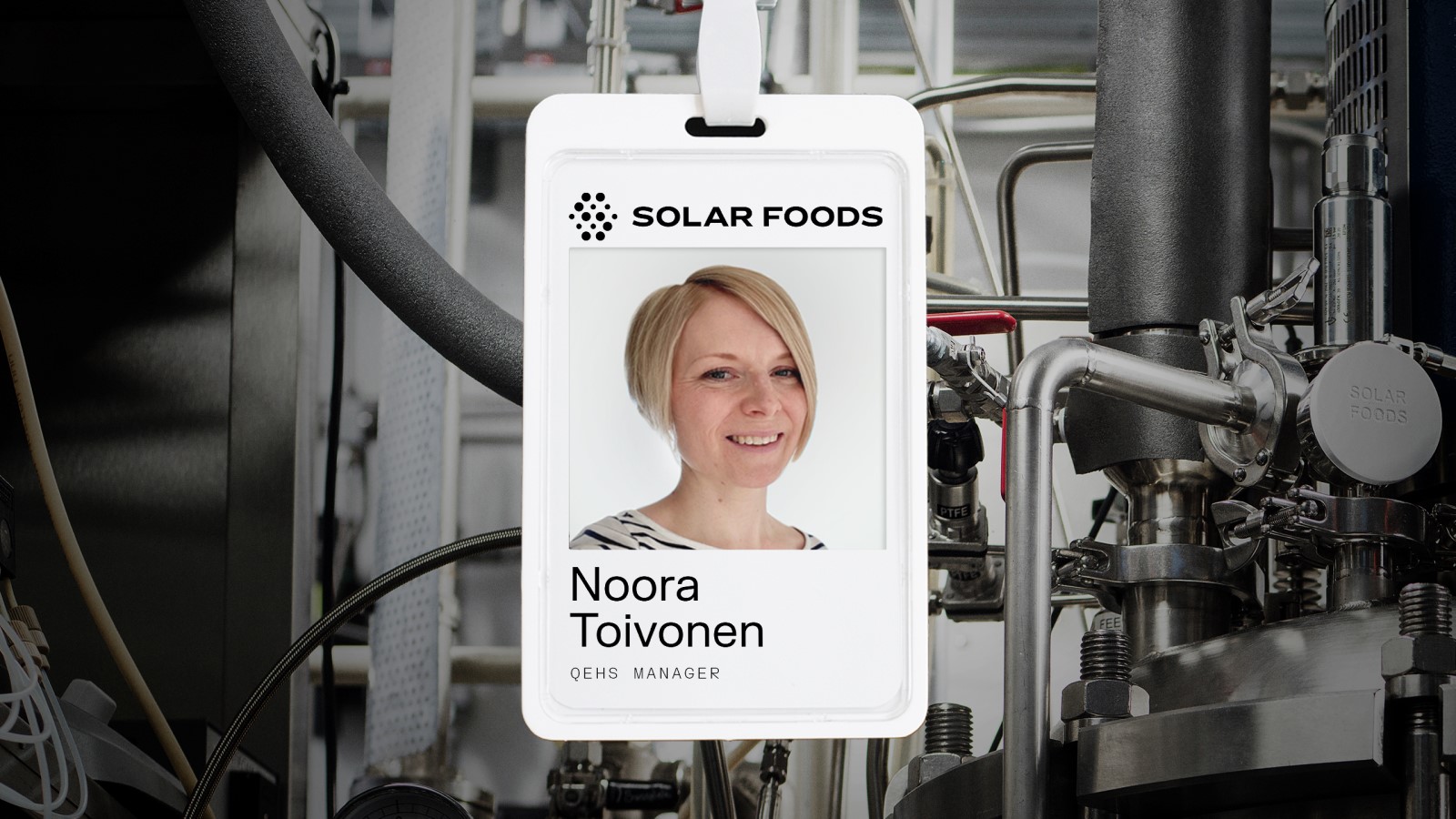 In September 2022, we received our first novel food approval from Singapore. The next phase is starting production in 2024 and making Solein® commercially available for brands within the food industry. Thorough quality and food safety management is the key to ensuring that Solein arrives smoothly and safely.
Applications for the novel food authorisations of Solein have been filed in the UK and EU; Solar Foods is also seeking GRAS (Generally Recognized as Safe) status assessment in the US. As these markets will open, one by one some time after Singapore, the food revolution starts to become a reality – and it will be a safe revolution.
All the food we consume today has been tested and qualified through certain processes to make sure that it is safe for humans to eat – that is the reasoning behind each novel food permitting process. In addition, especially in Finland and the EU, operative quality and safety control of food is some of the highest in the world – and Solein reaches this level as well. A key person in leading the further development of the company's quality and food safety management is our QEHS (quality, environment, health, and safety) manager, Noora Toivonen.
"Solein is the real game changer, and we constantly observe and measure it and the production process behind it. Everything is tested thoroughly. We've built the basis of a functioning system: I make sure that it is constantly develop even further, naturally with the support of the whole Solar Foods team since it is all about the overall safety culture and team work. We are also aiming to obtain an internationally recognized and accepted food safety standard certification", Noora says.
New process brings new opportunities
As the term 'novel food' suggests, Solein is a completely new kind of ingredient with a unique production process. Therefore it is also no wonder that it has taken time and consideration to secure every step of the process: there were no prior footsteps we could have followed, so we have been walking on previously untouched territory. This gives the process an additional level of challenge, but at the same time makes it exhilarating and fascinating.
"Quality and food safety management of a novel food ingredient is special because you're building something new, but also need to make sure it follows every bit of existing food legislation. In food production, things revolve around HACCP, or hazard analysis and critical control points. A food producer needs to recognise the potential hazards of their processes and control them so that there's no risk to the consumer. The analysis is different for every food product: HACCPs are evaluated on similar criteria, but they're always unique to the ingredient or food product produced and the processes behind it."
With Solein, the analysis is different than what it would be with traditional agricultural processes. The food safety team carefully looks at specific questions related to a closed bioprocess of this kind and ensures that any foreign substance does not infiltrate the process. Production specialists monitor the whole production process from the purity of the nutrients fed into the process to uniform quality of the Solein produced.
"With Solein, we are building new future-oriented food safety management and hopefully encouraging other future foods to follow our example. We ensure the product's safety all the way from the molecular level up and at the same time have opportunities to develop and tune the methods of production in the future", Noora continues.
Today's quality management shapes the best practices of tomorrow
Quality management is demanding work, especially in food production. To ensure our system is bullet-proof in this respect, we have put together a cross-disciplinary food safety team where each member contributes with their own specialist skills from the bioprocesses to safe food production.
Quality and food safety management involves careful specification, monitoring, testing and documenting each step of the process. This will allow us to certify the food safety management system in our upcoming Factory 01.
Quality and food safety management is not about observing the process from the fringes and pointing out mistakes: it looks at the overall culture and ways of working in Solein production to instill best practices. This involves several aspects from product and work environment safety to monitoring and management of environmental factors. The work done now also supports scalability and better processes in future factories.
"Quality and safety management of novel food requires a lot of work and research, solid professionalism of the whole team, and precision. Our planet needs this change desperately and the sooner we do it the better. Being a pioneer comes with the responsibility to do things right from the start and set the standard for others to follow. Still, most importantly, we need to do it in a safe and secure manner. We are on a mission that I personally find unique, intriguing, and motivating – changing the world always is", Noora concludes.