Business Finland greenlights Solar Foods' €8.6m project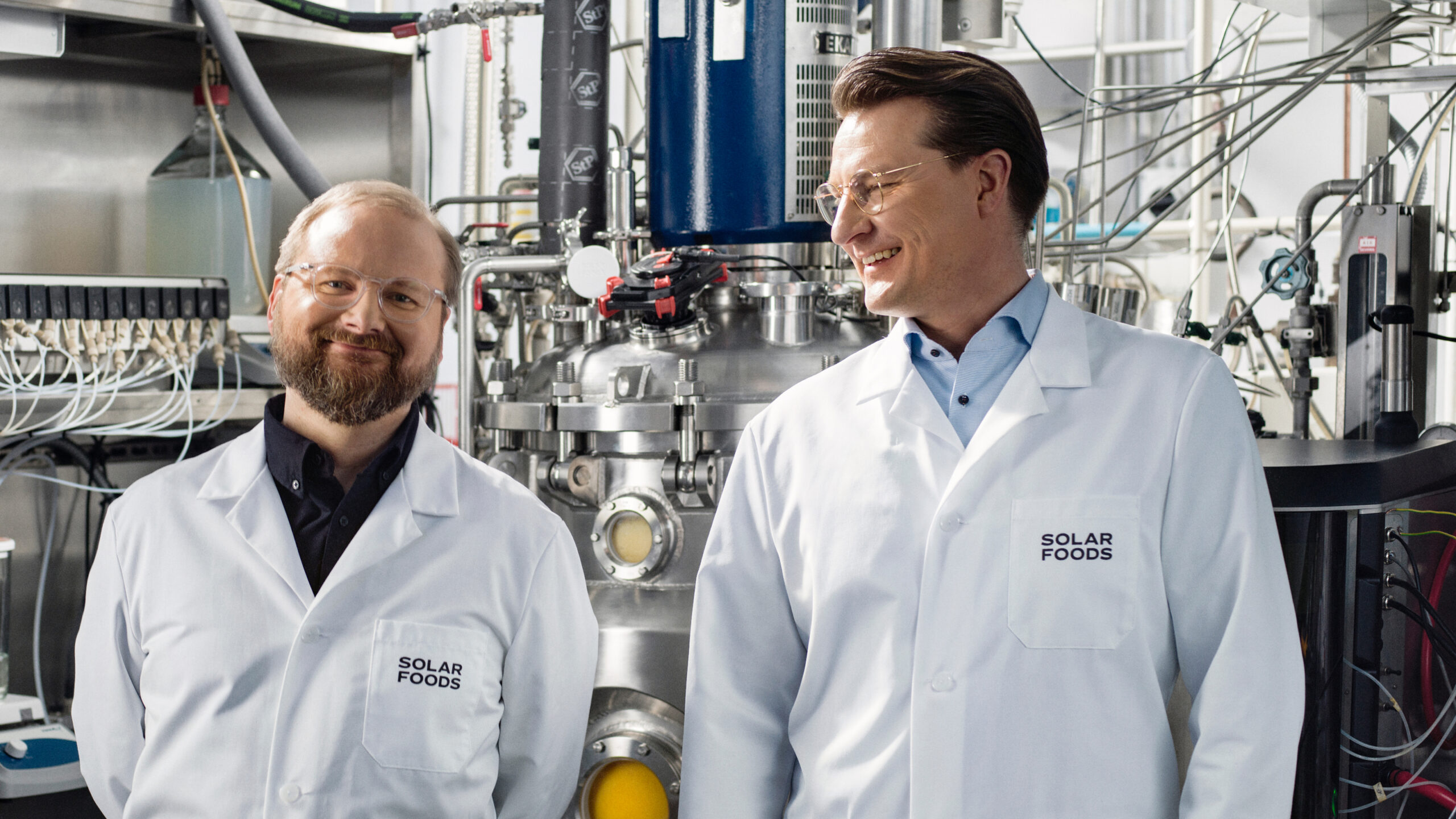 Solar Foods has been granted €4.3M of new financing from Business Finland to support its €8.6M development project for commercialising Solein®, Solar Foods' natural protein made from air. Business Finland's financing takes the total Solar Foods' financing to the total €24.8M.
"As a company, we have two important tasks ahead of us: finalising the development of Solein to become market-ready and constructing our demonstration factory. Ever since the founding of Solar Foods, we have enjoyed fruitful cooperation with Business Finland. We are extremely happy about Business Finland's follow-on capability during the growth of companies like us", says Solar Foods CEO and co-founder, Dr Pasi Vainikka.
"Solar Foods is a fine example of a startup that Business Finland's services and financing can support in the company's international growth. When vision, innovation, the right team, and resources all play in tandem, Business Finland can give a significant boost to the growth story of a company", says Kari Venäläinen, Account Manager at Business Finland.
Business Finland supports the development of the world's first food produced from thin air
Solar Foods stands as the first company to produce food by using air-captured CO2 in a continuous mode, including the preparation of the actual final food products. Solar Foods produces an entirely new kind of nutrient-rich protein, Solein®, by using air and electricity as its primary raw materials. Based on natural fermentation, this process revolutionises food production, as the production of Solein is non-dependent on the weather, climate, or agriculture.
Having previously co-financed Solar Foods' piloting phase and the company's business incubator project with European Space Agency, Business Finland continues its support by financing the development of the world's first food produced from thin air. "We are happy to join forces for this moonshot: A new and unique ingredient for the humankind that proposes limitless potential for sustainable food production", adds Venäläinen.
A new production plant, the demonstrator, will be a key milestone in Solar Foods' path in reaching its vision of changing the way food is produced. Vainikka elaborates: "Our next target is to finalise funding for the demonstration factory investment. For the demo, we have already covered basic engineering, with also good options for a location that we are about to set in the upcoming weeks."
Dr Juha-Pekka Pitkänen, Solar Foods CTO and co-founder, adds: "After carrying out basic engineering, the Solar Foods production facility is now entering the permitting process. Its function is to demonstrate the future of food production."
Facilitating a gateway to future foods
Planned to be operational in the near future, Solar Foods' new production facility will enable the commercialisation of new food products based on the novel platform ingredient Solein. So far, Solar Foods has already developed over 20 different kinds of food products that utilise Solein.
With basic engineering done and permitting well underway, both Solar Foods' demonstration facility and the company's core team are set for a promising future. The positive direction, supported by a successfully closed Series A financing round, sees the team expanding further with new recruits ready to join the cause. "Solar Foods' vision is to change the way food is produced, and the demonstrator's product is aimed to be permitted as a global novel food ingredient. The world has hope. Food of the future is not a utopia – it is happening now", Pasi Vainikka envisions.
An extraordinary protein for ordinary life
Solein® is a complete protein with all the essential amino acids that is light in both taste and appearance. It vanishes into daily meals, while simultaneously maintaining its rich nutritional value and offering a unified solution that caters to virtually every imaginable meal of today. This new, genuinely sustainable and natural protein also provides exciting opportunities for entirely new foods of tomorrow.
Producing Solein can take place in the toughest of environmental conditions, e.g. the desert, the Arctic, or possibly even in space. Because its production process does not involve irrigation, pesticides, fertilizers applied on open land or animals, Solein stands as the world's most sustainable protein.
For more information:
Pasi Vainikka, D.Sc. (Tech.), CEO, Solar Foods Ltd., tel. +358 40 5825 987, pasi@solarfoods.com
About Solar Foods
Solar Foods produces protein using air and electricity. Solar Foods revolutionises food production with a method that is not dependent on agriculture, the weather, or the climate. The company was founded in Espoo, Finland, in 2017 by Dr Pasi Vainikka, Dr Juha-Pekka Pitkänen, Sami Holmström, Jari Tuovinen, Professor Jero Ahola and Janne Mäkelä as a spinoff from VTT Technical Research Centre of Finland and the LUT University. www.solarfoods.com
About Business Finland
Business Finland is the Finnish government organization for innovation funding and trade, travel and investment promotion. Business Finland's 600 experts work in 40 offices globally and in 16 regional offices around Finland. Business Finland is part of the Team Finland network. www.businessfinland.fi